Edited by Carly Carioli
---
thursday | friday | saturday | sunday | monday | tuesday | wednesday | thursday

THURSDAY
---
LANGUAGE
Do the godz speak Esperanto? Well, no, but apparently some folks still do. The hybrid universal language never quite caught on -- we suspect, though we can't prove it, that more people these days are fluent in Klingon. But the 51st annual convention of the Esperanto League for North America is in town this weekend at MIT, and a pair of rock-en-Esperanto performers -- Jean-Marc Leclercq, who calls himself JoMo and performs translations of '60s pop songs; and Kim Henriksen, frontwoman of a world-music group called Esperanto Desperado -- have been booked as the entertainment. They'll perform tonight at the Thirsty Ear pub, 305 Memorial Drive, at 9 p.m.; on Friday at 5 p.m. on the steps of the Stratton Student Center; and on Saturday at 8:30 p.m. in Lobdell Hall, on the second floor of Stratton. All three gigs, as well as the convention, are free and open to the public; call (617) 718-9814, or visit http://esperanto.org/ELNA/kongresso2003.
ROCK
Joan Wasser was far from the first rocker to pick up a violin, but in the Dambuilders she was certainly one of the fieriest of the bunch -- a distinction that led to her emergence as the violin go-to girl on records as far afield as Sheryl Crow's Come On, Come On, Sex Mob's Solid Sender, and Sparklehorse's It's a Wonderful Life. Whether in the Dambuilders or in Black Beetle (with members of Jeff Buckley's band), she's almost always been a sidewoman, but tonight she debuts her solo thing, which goes by the title Joan As Policewoman, on a bill with the duo of Beck/Tom Waits guitarist Smokey Hormel and Cibo Matto's Miho Hatori, at T.T. the Bear's Place, 10 Brookline Street in Central Square; call (617) 492-BEAR.

[back to top]

FRIDAY
---
PUNK
Best Music Poll winners this year in the Local Punk Band category, the Lost City Angels celebrate their independence, and ours, with the official feel-good rock-and-roll blowout of the Fourth -- at the Middle East, making it the perfect after-fireworks hang. Just off a West Coast tour with Dropkick Murphys, the anthemic black-clad lads are joined by former Dropkicks singer Mike McColgan's new band, the Street Dogs, as well as Orange County's Death on Wednesday and local hardcore kids Every Forty Seconds. That's at 472 Massachusetts Avenue in Central Square; call (617) 864-EAST.
FOURTH
At press time we still hadn't gone to an orange alert, but the city's annual Fourth of July shindig at the Hatch Shell on Charles River Esplanade is nonetheless proceeding along the guidelines established in the wake of September 11. For those of you heading to the Shell, that means the grassy field in front of the Shell will be gated off, and in order to enter it you'll need one of the wristbands that'll be distributed this morning, starting at 9 a.m., on a first-come basis. Keith Lockhart and the Boston Pops show up at 8 with the Mormon Tabernacle Choir and country-pop lolita LeAnn Rimes; the fireworks commence at 10:30. (For those tuning in at home: the full proceedings will be on Channel 4, WBZ-TV, starting at 7 p.m.) For more information, call (888) 484-7677 or visit www.july4th.org.

If mass-patriotism rallies strike you as not quite funny enough, consider that hidden-camera TV host Jamie Kennedy is at the Comedy Connection, 245 Quincy Market at Faneuil Hall, tonight at 8 and 10:15 p.m. and tomorrow at 11:15 p.m. Tickets are $25; call (617) 248-9700. And if fireworks make you wanna drink, note that the local garage-punk mafia will be gathering at the Abbey Lounge for a gig featuring old-school rabble rousers the Downbeat 5 and the Real Kids. That's at 3 Beacon Street in Somerville, just a block from Inman Square; call (617) 441-9631.
FILM
You loved him in Tenacious D. You loved him in High Fidelity and Orange County. Will you love him as a director/producer? Jack Black comes to town with his girlfriend and co-director, Laura Kightlinger, to screen their Sixty Spins Around the Sun, an hour-long feature film about a stand-up comic on a political crusade to repeal oppressive drug laws. Black will be on hand to introduce the film today at a 12:55 p.m. screening at John Hancock Hall, 200 Berkeley Street. It's part of the Boston International Film Festival, for which all-day tickets are $15. The whole shebang started yesterday and continues through tomorrow; call (781) 935-0871.

[back to top]

SATURDAY
---
ROCK
This fall, Dave Grohl will finally get around to releasing the delayed-by-three-years album by his Probot side project, a collection of heavy-freakin'-metal tracks with guest vocals by a who's who of '80s underground metal singers from Lemmy to Venom's Cronos. Which is good news for hard-rock fans, since the Foos have been perfecting the kinder, gentler, all-American alterna-rock embodied by their hit singles "Learn To Fly" and "Times like These." With Pete Yorn and indie-roots faves My Morning Jacket along for their summer ride, the Foos seem to be in a pop-and-roll state of mind; but with Grohl's buddy Jack Black in town for the holiday weekend (see "FILM," above), you never know what kind of high jinks could ensue on Saturday at FleetBoston Pavilion, on Northern Avenue. Tickets are $33; call (617) 931-2000.
MUSICAL THEATER
He's baaa-aaack. Last summer, Hershey Felder's one-man show George Gershwin Alone smashed every box-office record in the history of the American Repertory Theatre, and he'll no doubt be doing a brisk business when he brings his talking, singing, piano-playing monologue/concert/sing-along back to the Loeb Drama Center tonight. Tickets are $45, or for $65 you can buy a two-fer including a later performance of Romantique -- Felder's next musical endeavor, an evening at the piano with George Sand (Remington Steele's Stephanie Zimbalist), Eugène Delacroix (Tony winner Anthony Crivello), and Frédéric Chopin (guess who?) helmed by My Big Fat Greek Wedding director Joel Zwick, who also directs Gershwin. Romantique shows up August 1; Gershwin returns tonight and runs through July 26. The ART is at 64 Brattle Street in Harvard Square; call (617) 547-8300.
POST-PUNK
In the Fall, Mark E. Smith proved that punk could be an unintelligible music you could dance to, or at least have a seizure to -- an achievement that has rendered the band relevant once again, thanks to the current upswing in post-punk indie-disco outfits like Erase Errata, Moving Units, the Rapture, and !!!, as well as the group opening the Fall's current US tour, Brooklyn's the Rogers Sisters, who make campy, danceable, minimalist rock with a social conscience. Not that the lack of a coherent context -- or Smith's plain-old lack of coherence -- has ever deterred the Fall, who maintain one of the unwieldiest and unruliest catalogues in all of rock. Tonight they're at the Middle East, 480 Massachusetts Avenue in Central Square; call (617) 864-EAST.
INDIE ROCK ON FILM I
The Allston Cinema's month-long series of music documentaries kicks off tonight with a reprise of Jem Cohen's Instrument (1998), a tribute to the kings of punk's do-it-yourself ethic, Fugazi, that reveals DC's most politically correct band to be less uptight, and even more spectacular as a live ensemble, than you thought. In a nod to the group's infamous low-ticket-price policy, admission is just $5. The Allston is at 214 Harvard Avenue, and the film screens tonight and tomorrow; call (617) 912-8626 or visit www.allstoncinema.com.

[back to top]

SUNDAY
---
FILM
The Harvard Film Archive has resumed its alphabetical summer schedule, which is organized this year by theme. We're up to "E" already, and as we all know, "E Is for Exploitation!" Which means another look at Beyond the Valley of the Dolls (1970), the unholy collaboration between schlockmeister director Russ Meyer and film critic/aspiring screenwriter Roger Ebert in which three naive girls come to Hollywood to seek stardom and find campy decadence instead. It screens at 7 p.m. From Hollywood trash we move on to Eurotrash with Andrzej Zulawski's Possession (1981), in which Isabelle Adjani cheats on both her husband and her lover with a supernatural entity; it all leads to a bizarro love scene that won her a Best Actress Award at Cannes. An uncut print screens at 9 p.m. The HFA is in the Carpenter Center, 24 Quincy Street in Harvard Square; call (617) 495-4700.
BURLESQUE
The NYC comedienne and singer who calls herself the Goddess Perlman is one old-school broad: her ideal good time is a weekend in the Catskills reviving the popular entertainment of the vaudeville/burlesque circuit. But if you can't make it to the Goddess Fest in Oliverea, New York, at the end of July, you can catch the Goddess herself performing her bad-girl musical-comedy shtick -- which has been known to include a ditty called "Eminem's My Bitch" -- at the Milky Way's "CandyLand" night. Get there early and check out the Motherfucking Clash, in which a girl done up in late-Elvis drag trades Leiber & Stoller for choice selections from the Joe Strummer/Mick Jones songbook: the spirit of '77 will never be the same. That's at 405 Centre Street in Jamaica Plain at 8 p.m.; call (617) 524-3740.

[back to top]

MONDAY
---
COMEDY
Like just about any female comic novelist these days who writes about sex and money, Candace Bushnell has been compared to Jane Austen. But, like, is Sarah Jessica Parker taking Jane's calls? We don't think so. Bushnell, the creator of Sex and the City, is now on a tour promoting Trading Up (Hyperion), her latest "comedy of manners," which is set in a city and concerns a model determined to sleep her way to the top of it. She's in town on Monday to read at Brookline Booksmith, 279 Harvard Street in Coolidge Corner, at 7 p.m., and it's free; call (617) 566-6660.
INDIE POP
The cover of Visitor (Jade Tree), the latest album by Onelinedrawing, is a blurry photo of a pair of legs, an amp, and a famous toy robot. This is not mere whimsy, since the robot appears on the album itself. In the midst of one of the disc's fuzzy indie-pop songs, at just the place where the guitar solo traditionally resides, there is instead an R2-D2 monologue, which sounds more like a guitar solo than you'd think. (Did anyone else realize that R2 was speaking Eddie Van Halen's language all along?) And that song, "Smile," wasn't the only track to bring one to our face. Onelinedrawing -- the solo project of emo dude Jonah Matranga (Far, New End Original) -- reminds us less of new-model Dashboard Confessional or Bright Eyes than of old Bob Mould and Paul Westerberg. We don't know whether he'll bring the droid, but tonight Onelinedrawing is at Axis, 13 Lansdowne Street, with Breaking Pangea, Bleu, and the Acceptance. It's a 5:30 p.m., all-ages show, and tickets are $10; call (617) 423-NEXT.
ROCK
Connor Oberst's big brother Matt has a band on Saddle Creek too. Sorry About Dresden's Let It Rest came out in March, and tonight they're at T.T. the Bear's Place, 10 Brookline Street in Central Square. Admission is $7; call (617) 492-BEAR.
BLUES ON FILM
The Museum of Fine Arts isn't the only joint in town with a live-and-on-screen blues festival. (See "State of the Art.") The Coolidge Corner Theatre and WGBH are offering a similar R&B heat wave with a "Summertime Blues" series on Mondays this month; it kicks off with tonight's screening of Ken Mandel's 1993 overview Bluesland: A Portrait of Blues in America, which features rare footage of Muddy Waters, Bessie Smith, Sonny Boy Williamson, and Leadbelly, among others. The 7:30 p.m. screening is followed by a performance by local blues session man Chris "Stovall" Brown. The Coolidge is at 290 Harvard Avenue in Brookline, and admission is $10; call (617) 734-2500.
INDIE ROCK ON FILM II
Before indie filmmakers Suki Hawley and Michael Galinsky made Horns and Halos, their documentary about the publication of a controversial Dubya biography, they shot a pair of quasi-documentary (but not mockumentary) indie-rock road movies, both of which screen tonight courtesy of the Underground Film Revolution. Half-Cocked (1995) has nothing to do with the Boston hard-rock band of the same name, though it does include music by Helium. Its band-on-the-run story line follows a makeshift indie-rock outfit (played by members of real-life '90s indie bigwigs Rodan, Retsin, and June of '44) touring in a stolen van. That's followed by Radiation (1999), a movie that the filmmakers shot on the fly while touring Half-Cocked to European festivals. Now getting a belated local premiere, it follows a broke tour promoter who, after being stiffed by a club and in turn stiffing his drug dealer, guides a band (played by Boston's own Come, in what Thalia Zedek might've called a near-life experience) on a disastrous tour through Spain. The films screen at 8 and 10 p.m. respectively at the Milky Way Lounge and Lanes, 405 Centre Street in Jamaica Plain. Admission is $5; call (617) 524-3740.

[back to top]

TUESDAY
---
FILM
Far more innocent civilians have died than soldiers in the course of modern warfare, but what monument commemorates their loss? More timely than ever, Stonewalk records the struggles of Lewis Randa to march a one-ton monolith dedicated to "The Unknown Citizens Killed in War" 500 miles from his Massachusetts home town of Sherborn to Arlington National Cemetery. A presentation of the Boston Film/Video Foundation's "Meet the Director" series, it will be followed by a discussion with the film's producers, Allison Lund and Barry Schneier, at 7:30 p.m. at the Coolidge Corner Theatre, 290 Harvard Street in Brookline; call (617) 734-2500.
The alphabetic selections continue at the Harvard Film Archive with "G Is for Ghost Stories." First we get one of the scariest, the portmanteau film Dead of Night (1945), with mordantly terrifying episodes from such directors as Alberto Cavalcanti and Charles Crichton, a cast including Michael Redgrave and Googie Withers, and an ending with a twist that makes The Sixth Sense seem second-rate. It screens tonight at 7 p.m. and tomorrow at 9 p.m. Next is Hour of the Wolf (1967), Ingmar Bergman's Zauberflöte-inspired take on the genre, with Max von Sydow as an insomniac artist driven to madness by spectral visitors, Liv Ullmann as the wife who tries to keep him grounded in reality, and Ingrid Thulin as the luscious Veronika Vogler; it screens tonight at 9 p.m. and tomorrow at 7 p.m. The HFA is in the Carpenter Center, 24 Quincy Street in Harvard Square; call (617) 495-4700.
[back to top]

WEDNESDAY
---
ROCK
Creeper Lagoon and Calla are from opposite ends of the country -- California and New York, respectively -- but they share a love of grandiloquent, darkly alluring, artfully meandering indie pop. A couple of years back, before Coldplay ironed out the bugs in the formula and sold it back to American audiences, Creeper were being touted as the next big thing. (To judge by the response to their ill-fated DreamWorks debut, the public begged to differ.) But even if they aren't, their sharp hooks and strangled, Television-like guitar eviscerations render them in tune with the latest queue of New York rock bands -- including their new labelmates Calla, whose latest album, Televise (Arena Rock), reminds us of Creeper's I Become Small and Go (Nickelbag). Both bands show up tonight at T.T. the Bear's Place, 10 Brookline Street in Central Square; call (617) 492-BEAR.

[back to top]

THURSDAY
---
AVANT-FOLK/BLUES
Ghostlier than Daniel Johnston, more surreal than Neutral Milk Hotel, and more affecting than Syd Barrett, Devendra Banhart writes songs that navigate the stream of a very peculiar consciousness. With little more than a flinty acoustic guitar and his piercing, birdlike, quasi-falsetto warble, Banhart fashions fragile gothic blues and avant-folk as refracted through the prism of a cracked mind. The title of his debut album is very long, but we'll call it Oh Me Oh My (Young God). It has the feel of an ancient Alan Lomax field recording, in the tape hiss and the passing trucks in the background, and in Banhart's fable-like magic realism. "I lost the tunes that stuck to my ears/While on my way to the make-believe hears," he sings. And though the songs are a catalogue of the many things he's lost, from his love to his teeth, the tunes have the feeling of a rare, found artifact -- part Gypsy rant, part timeless blues, part juke-band oddity -- with the uncanny ritualistic spontaneity of a work song or a field shout. Tonight Banhart plays the Zeitgeist Gallery, 1353 Cambridge Street in Inman Square, with the equally odd avant-folk group Xiu Xiu. It's a 9:30 p.m. show, and admission is $12; call (617) 876-6060.
ROCK
The Jesus and Mary Chain may have been one of the more obvious points of reference on Black Rebel Motorcycle Club's 2001 Virgin debut, B.R.M.C., in terms of both sound and hairstyles. But there were a number of other salient influences driving the Bay Area trio, from the psychotic psychedelic punk of the early Stooges to the avant-metallic drones of "Sister Ray"-era Velvet Underground. There's certainly less of the J&M Chain and more punkish Velvetsy drone rock on Take Them On, on Your Own (Virgin), the band's sophomore disc. And though that album isn't due for another couple of months, the trio have taken to the road to test out some of the new material (with frontman Rob Turner spinning records as his own opening act), and their tour stops tonight at T.T. the Bear's Place, 10 Brookline Street in Central Square; call (617) 492-BEAR.
JAZZ
The great pianist/composer Abdullah Ibrahim's Boston appearances have been all too rare since he returned to his native South Africa in 1990. Ibrahim's music joins the folk-song tunefulness of the old South African townships to an Ellingtonian sense of harmony and texture. He's at the Regattabar for the weekend with bassist Belden Bullock and drummer George Gray. That's in the Charles Hotel, 1 Bennett Street in Harvard Square; call (617) 876-7777.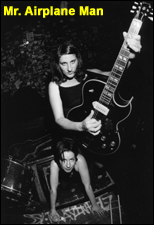 PUNK
The savage garage-punk duo Mr. Airplane Man have a new record in the can, one they recorded in Memphis with the Hives' favorite songwriter, Greg Cartwright (Oblivians, Reigning Sound), at the helm; and while they were down there, they shot an honest-to-goodness video with art-trash exploitation cinematographer J.M. McCarthy (The Sore Losers, Teenage Tupelo), garage punk's answer to John Waters. To celebrate, the Airplanes kick off a month-long residency at the Abbey Lounge tonight with recent Crypt Records signees the Little Killers. The Abbey's at 3 Beacon Street in Somerville, a block out of Inman Square; call (617) 441-9631.


[back to top]

Back to the Events table of contents.